The Huntsman
Eleanor Hartwell has been huntsman for The Bridlespur Hunt Club since 2002. Her passion and dedication to the club have helped make it what it is today. We are lucky and honored to have her as our huntsman.
Huntsman of Bridlespur
Family Lineage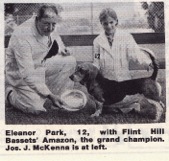 Eleanor Hartwell was born foxhunting and riding with her mother, Betsy Park who was Huntsman for 30 years for The Millbrook Hunt in New York. At 10 years old, she showed her favorite basset hound puppy, Amazon, and after winning locally ended up winning Champion Bitch in 1975 against tough competition and to the disgust of an older, more established "gentleman". See photo clip taken from the back cover of The Chronicle of The Horse. (A BIG thanks to The Chronicle for sending this! So generous!)
---
Hunting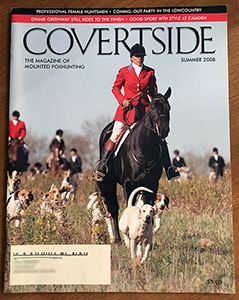 At the mere age of 14, Eleanor started hunting hounds professionally. After 10 years of hunting professionally with Millbrook, she spent two professional seasons hunting hounds with Rita Mae Brown (yes, the author) at Oak Ridge Foxhunting Club in Virginia. The magazine, Covertside, featured Eleanor in the Summer 2008 edition which tells more about her success as a huntsman.
---
Breeding and Showing Hounds
To say Eleanor takes great pride in her hounds is an understatement. Her keen instinct for breeding and training the hounds at the Bridlespur Hunt has led to a top notch pack of hounds.
---